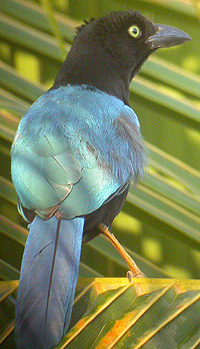 San Blas Jay
Photo by Charlie Vogt


"I love the birds, I love the people,
I love the food and I love the beer!"
Mark Sokol, Jan 2006

Charlie, who has spent 12 summers in Chiapas has developed a tour to Western Mexico focusing on the marvelous endemics found in this colorful and breathtaking part of the country. Where else in the world can you find 14 species of corvids, including 11 species of jays with such spectacular endemics as the Tufted Jay, San Blas & Purplish-backed Jay, White-throated Jay, not to mention Black-throated Magpie-Jay (cover-bird on Howell and Webb's, Guide to the Birds of Mexico and N. C. America). Add to this a splendid mix of Neotropical and Nearctic avifauna, both exotic and familiar, in an easy-to-bird environment with lower canopy and open forests, and you have a truly rewarding experience.

Direct flights to Puerto Vallarta from many North American cities facilitate your travel plans to this birding paradise.

Tour Itinerary

Streak-backed Oriole
Photo by Charlie Vogt

Day 0. Arrive Puerto Vallarta and overnight.

Day 1. We start off birding the coastal arid scrub where we are rewarded with such striking gems as Blue, Painted, Varied, & Orange-breasted Bunting. I once had three of these in one binocular view! Peppering the bushes are flocks of Ruddy-breasted & Cinnamon-rumped Seedeaters, while troops of Yellow-winged Cacique and whooping Great-tailed Grackles file by.

Heading north we come to the quaint fishing village of San Blas, a pleasant contrast from the pulsing resort of Puerto Vallarta.

Day 2-4. San Blas and vicinity.

We spend 3 more days birding this famous birder's eden. With a variety of sites and habitats, there are many opportunities to search for specialties such as Rufous-bellied Chachalaca, Elegant Quail, Mexican Parrotlet, Lilac-crowned parrot, Citreoline Trogon, Russet-crowned Motmot, Happy & Sinaloa Wrens, Purplish-backed & San Blas Jays. Gangs of diminutive Sinaloa Crows will amuse you with their antics and high voices, like crows on Helium. Raucous families of Black-throated Magpie-Jays patrol the open forests and screech like primates. With some resolve we can tease out three breathtaking skulkers, Rosy Thrush-Tanager, Fan-tailed Warbler and Red-breasted Chat.

Roseate Spoonbills
Photo by Charlie Vogt

Sinaloa Crows
Photo by Charlie Vogt
Adult and juvenile Tufted Jays
Photo by Charlie Vogt

Day 5-7. Durango Highway - The secret of the Painted Jay.
Continuing north and inland from Mazatlan we head to the next birder's delight, the famous Durango Highway. We spend three days birding the thorn forest and cooler pine forests with wonderful vistas along this spectacular road. Here we reap such specialties as White-naped Swift, Black-capped Gnatcatcher, Golden-crowned Emerald, Golden-cheeked Woodpecker, Godman's Euphonia, Rusty-crowned Ground-Sparrow and Black-vented Oriole. Multicolored mixed flocks included such stunners as Red, Red-faced & Crescent-Chested Warblers as well as Painted & Slate-throated Whitestarts and the singular Red-headed Tanager. Cruising for flocks of Steller's Jays, we are rewarded with their imperial companion, the extraordinary Tufted Jay, with its punk crest, huge size and impossibly white underparts. The locals call it Urraca Pinta or Painted Jay and we will tell you its secret. Another anomaly is the unique Eared Quetzal, a Trogon with an identity problem.
We head south and inland from San Blas to bird Cerro San Juan back up in the cool pine -oak forest. Overnight in picturesque Tepic in the heart of Charro (cowboy) country.

Back to top

Gray Silky
Photo by Charlie Vogt

Day 8. Cerro San Juan.

In the morning we bird Cerro San Juan for Lesser Roadrunner, Bumblebee Hummingbird (hear its amazing siren song!), Green-crowned Woodnymph, Gray-crowned Woodpecker, White-Striped Woodcreeper, Gray-collared Becard, Spotted Wren , Golden Vireo, Rufous-capped & Golden-browed Warbler, Audubon's Oriole and Black-headed Siskin.

Later we head past Guadalajara to the Colima Volcanoes, overnight Cuidad Guzmán.


Day 9-11. Colima Volcanoes.

Elegant Quail
Photo by Charlie Vogt

We spend three days birding in Colima, which straddles 2 EBAs, Balsas River Valley and the trans-Mexican volcanic region. This area adds over 20 additional endemics which are not found further north. On the road north of Volcan de Nieve we look for Sparkling-tailed Woodstar, Dwarf Vireo, Gray-barred Wren, Chestnut-Sided Shrike-Vireo, Collared Towhee, Rufous-capped & Green-striped Brush-Finch. Up the road to Volcán de Fuego we can pick up specialties such as, West Mexican Chachalaca, Long-Tailed Wood-Partridge, Singing & Banded Quail, Eared Poorwill, Great Swallow-tailed Swift, Colima Pygmy-Owl, Berylline & Amethyst-throated Hummingbird. This is also the best site for Thick-billed Parrot, and Aztec Thrush. At the Radio Antenna road La Cumbre we go for Balsas endemics, Balsas Screech-Owl and Black-chested Sparrow. Accommodation at a comfortable hotel in Colima.

We head to the coast for an afternoon birding at Playa de Oro for White-bellied Wren, Flammulated Flycatcher, and Black-capped Gnatcatcher. Overnight at Barra de Navidad, a charming, laid-back beach town.

Golden-cheeked Woodpecker
Photo by Charlie Vogt

Day 12. Barranca el Choncho to Puerto Vallarta.

In the morning we bird the nearby Barranca el Choncho for White-throated Magpie-Jay, White-bellied Wren, Rufous-backed Thrush, Streaked-backed Oriole and have more chances for difficult species such as Flammulated Flycatcher, Black-capped Gnatcatcher, Fan-tailed Warbler and Red-breasted Chat. Driving on to Puerto Vallarta, we pass through a gorgeous, lonely stretch of coastal highway, which passes through the largest stand of tropical dry forest I have seen in the Neotropics, called Chamela-Cuixmala Biosphere Reserve. In fact, the largest remaining dry forests north of the equator are found in western Mexico. Here, at the southern end of the Northwestern Mexican Pacific Slope EBA, occur two threatened species: the Yellow-headed Parrot and the Mexican Woodnymph, known from only a handful of humid barrancas in western Mexico.

Late afternoon birding around laguna Quelele for water birds and any specialties we missed or need better looks.

Day 13. The trip ends with early morning birding around Puerto Vallarta, then transfer to airport for flight home.

Three Week Tour

This tour covers the same itinerary as the two-week tour with an additional weeklong loop east of Guadalajara covering important birding spots including Temascaltepec and the Polvorín loop for Mountain Trogon, Slaty Vireo, Rufous-Capped Brush Finch, Cinnamon-bellied Flowerpiercer, Abeille's Oriole, Hooded Grosbeak; la Cima for Strickland's Woodpecker, Striped Sparrow, Sierra Madre Sparrow. The real treat, however, is Sierra de Atoyac, a site which contains 60 endemics or 1/3 of the 180 Central American endemics, more than are found in Venezuela and Ecuador combined! Part of the Sierra Madre del Sur of Guerrero and Oaxaca EBA, it harbors significant populations of 3 threatened species; the White-tailed hummingbird, Short-crested Coquette and White-throated Jay.
Rufous-backed Robin
Photo by Charlie Vogt
Yellow-winged Cacique
Photo by Charlie Vogt

Back to top

Tour Information
Price per person: Click here for prices
Included: All lodging, meals, expert bilingual birdguide, transportation, hotel transfer and entrance fees.
Not included: Last night dinner; drinks; tips.
See our Payment and Cancellation Policy page for important information.