We start with a visit to the estuary reserve, the Costanera Sur in downtown Buenos Aires with a good selction of wetland birds: 3 species of Coots, Black-necked Swans, Black-headed Duck and Spot-flanked Gallinule. A few hours drive from BA, at the coastal town of Punta Rasa we look for the localized Olrog´s Gull, Hudson´s Canastero and Bay-capped Wren-Spinetail, as well as a host of waders on their way north.

Black-necked Swan at Costanera Sur
Photo by Roger Ahlman

Rosy-billed Pochards
and Red-garthered Coots at Costanera Sur
Photo by Roger Ahlman
From Buenos Aires we head north to the marshes near Otamendi. Here we find a range of wetland species like Giant Wood-Rail, Bare-faced- and White-faced Ibises, Scarlet-hooded Blackbird, the rare Straight-billed Reed-haunter while the more common Curve-billed Reedhaunter should be easier to locate. Green-barred Flicker and White Monjita are other birds on offer here.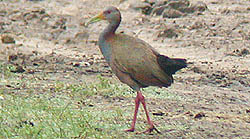 Giant Wood-Rail at Puerto Boca near Gualayachú
Photo by Roger Ahlman
We continue north from Otamendi to the town of Gualayachú. Rolling grassy hills mixed with wetlands will meet us here. Birds we might see include Ringed
Teal, Greater Rhea, Southern Screamer, Nacunda Nighthawk and with a lot of luck we may find the rare Saffron-cowled Blackbird.

The vulnerable Saffron-cowled Blackbird
can be found around Gualayachú
Photo by Roger Ahlman

Male Ringed Teal at Puerto Boca
Photo by Roger Ahlman
Around Cordoba we visit the high plateau of Pampa Anchala, in search of the endemic Comechingones and Olrog´s Cinclodes. Continuing further west we spend 2 days camping in the Chaco at Chancani National Park, where Black-legged Seriema strut about us. In addition we'll look for: Chaco Owl, Black-crested Finch, White-naped Xenopsaris, Spot-winged Falconet, Brown Cacholote and Many-colored Chaco-Finch, among many other birds.

White-necked Xenopsaris at Chancani NP
Photo by Roger Ahlman

The Black-crested Finch is found in chaco habitat
Photo by Roger Ahlman
Traveling north, we stop at Salinas Grande for the rare Salinas Monjita. Up the Tafi valley in the Yungas, we look for Yellow-striped Brush-Finch and Rufous-throated Dipper. Higher up we reach the ravines at Infernillo for the endemic Tucuman Mountain-Finch. Other birds found here include: Bare-eyed Ground-Dove, the stunning Red-tailed Comet and Puna Canastero. Lower down we stop for Rusty-vented Canastero. Around the vineyards of Cafayate we shall look for the cute Sandy Gallito, the northern race of Burrowing Parakeet and Red-legged Seriema. The spectacular drive to Salta looks like the Middle East and stops along here may yield Steinbach´s Canastero, White-throated Cacholote, Rufous-banded Miner and White-tipped Plantcutter.

A stunning male Red-tailed Comet at Infiernillo
Photo by Roger Ahlman

Blue-and-yellow Tanager
Photo by Roger Ahlman
From Salta we continue north to the humid yungas forests at Yale National Park. Red-faced Guan will be the target here as well as a second chance for Rufous-throated Dipper. At the high-altitude lake of Lago Pozuelos, we find 3 species of Flamingos, Puna Rheas, Andean Avocet and Gray-breasted Seedsnipes. With luck and depending on the water level we may also find Horned Coot.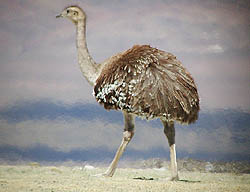 Puna Rhea at lago Pozuelos
Photo by Roger Ahlman
Calilegua National Park provides splendid forest birding along the roadside. Along with a cast of raptors we can also expect Toco Toucan, Giant Antshrike and White-throated Antpitta. In the evening we try for Hoy´s Screech-Owl.

Male Slender-tailed Woodstar at Calilegua NP
Photo by Roger Ahlman
Returning to the arid chaco at Jouaquin V Gonzales and the remote Copo National Park we look for many birds including: Black-bodied Woodpecker, Crested Gallito, Scimitar-billed Woodcreeper, Lark-like Brushrunner and Chaco Earthcreeper.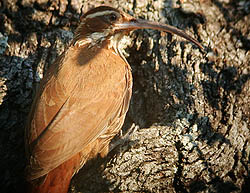 Scimitar-billed Woodcreeper at nest near Jouaquin V Gonzales
Photo by Roger Ahlman
This stimulating trip is paced so there will be enough time to study the wonderful birds and allow time for photograpy and digiscoping.
Tour Information
Price per person: Click here for prices
Included: All lodging, meals, expert bilingual birdguide, transportation, hotel transfer and entrance fees.
Not included: Last night dinner; drinks; tips.
See our Payment and Cancellation Policy page for important information.