Day 1. Fly Quito to Coca.
Transfer to motorized canoe for three-hour trip down the Napo River to Sani Lodge. Possible late afternoon birding before dinner, depending upon arrival time or owling after dinner.

Long-tailed Potoo
Photo by Kristian Svensson


Great Jacamar
Photo by Kristian Svensson
Day 2-3. Sani Lodge

Agami Heron
Photo by Peter Oxford

We arrive early at the tower for a full morning of birding for colorful tanager flocks, parrots, puffbirds, jacamars, among many other possible beauties. In the afternoon and the next day we bird the trails of the luxurious rain forest. Many species are possible and we will be sure to concentrate on the local specialties such as Ecuadorian Cacique, Brown Nunlet, Olive-spotted Hummingbird as well as Cocha Antshrike and Agami Heron.

Day 4. Sani Lodge to Napo Wildlife Center

Arriving NWC Lodge
Courtesy NWC

Early morning canoe shuttle to get the river island specialties such as Castlenau's Antshrike, Lesser Hornero, White-bellied, Parker's and Plain-crowned Spinetails. Afternoon half-hour canoe ride up the Napo River and transfer to the dugout canoes for two-hour paddle and wonderful birding up side river to Napo Wildlife Center. Arrive before dinner at Amazon Ecuador's finest birding destination. The impeccably designed lodge consists of 10 cabins nestled on a beautiful lake surrounded by pristine rain forest providing unforgettable bird and wildlife viewing opportunities. Giant river otters and full-grown Black Caimans are a regular treat near the lodge, long gone from other Napo hotels.


Black-mantle Tamarin
Photo by Kristian Svensson


Crested Eagle
Photo by Kristian Svensson
Chestnut-belted Gnateater
Photo by Peter Oxford

Day 5-7. Napo Wildlife Center
Over the next three days we will be visiting the tower as well as birding the many trails through the forest and in canoes providing ample opportunities to see most of the common as well as many specialty Amazonian birds and mammals. Of particular note are Zigzag Heron, Crested Eagle , Ornate, and Black Hawk-Eagle. Also possible are Sungrebe, Scarlet-shouldered Parrotlet, Rufous-throated Sapphire, Festive Coquette and Citron-bellied Attila.
Day 8. Napo Wildlife Center and return to Quito
Early morning we take the dugout canoe back to the Napo River and transfer to motorized canoe for 2 1/2-hour trip upstream to Coca. Fly Coca to Quito, arrive mid afternoon. Overnight Hotel Sebastian. Next day return flight home.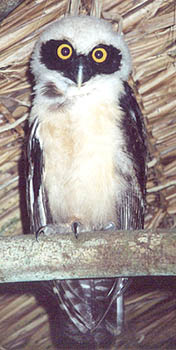 Juvenile Spectacled Owl
Photo by Peter Oxford
Tour Information
Price per person: Click here for prices
Included: All lodging, meals, expert bilingual birdguide, transportation, hotel transfer and entrance fees.
Not included: Last night dinner; drinks; tips.
See our Payment and Cancellation Policy page for important information.