SPACECOAST BIRD AND WILDLIFE FESTIVAL 25-26 JANUARY 2008
This is the biggest festival of its kind in the US and most major tour agencies, binocular manufacturers and various photographers and artists were represented. Andean Birding was represented by Roger Ahlman and Susana Torres. We all came second in attention to a spectacular Raptor show that was held several times daily on the main stage!
Our booth was well visited with many people interested in Ecuador and northern Peru. We had two big posters and a lap-top running all the time with mouth-watering images from South America. Roger explained in detail to interested people about our tours and the birds we are likely to see.

For Roger this was his first trip to North America and he sneaked out in the mornings for some birding alone and managed to get 49 lifers out of 104 species seen!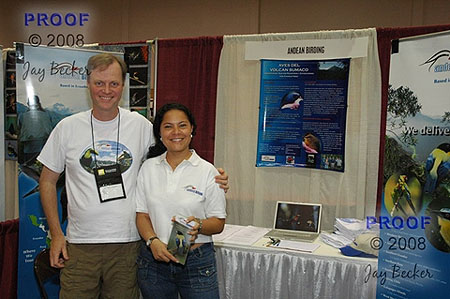 Click here to return to news index. 05/06/2008 10:00 AM